Adobe Photoshop Tutorials
[ Advanced Tutorials ] [ Basic Tutorials ]

Deprecated: Function eregi() is deprecated in /home/pimp08/public_html/tutorials/submit/show_news.php on line 16

Deprecated: Function eregi() is deprecated in /home/pimp08/public_html/tutorials/submit/show_news.php on line 36

Deprecated: Function eregi() is deprecated in /home/pimp08/public_html/tutorials/submit/inc/shows.inc.php on line 23

Deprecated: Function eregi() is deprecated in /home/pimp08/public_html/tutorials/submit/inc/shows.inc.php on line 23

Making A Brushset pt. II

Welcome to Part II of this two-part tutorial. If you haven't yet read Part I of this tutorial, it is reccommended that you read it before continuing. To do so, click here. Enjoy.

8) Continuing from where I just left off, now I'll teach you how to spice up your brush! Click on the button that says "Toggle the Brushes palette" (first, you need to make sure you have your brush tool selected on the Tools window). The button is on the upper left corner of the main Adobe Photoshop window.





9) Oooh... look at all the pretty boxes! Click some! Play around with stuff! Here's the settings on the box you can click: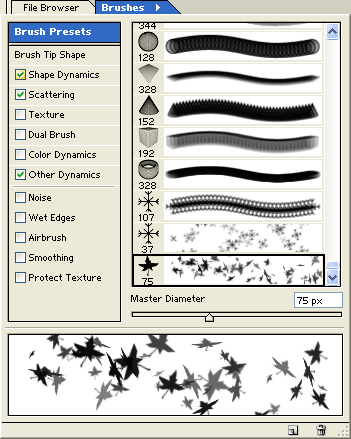 10) Everything's pretty self-explanitory... for a leaves brush I checked in Shape Dynamics, Scattering, and Other Dynamics. Here are my settings:

Shape Dynamics...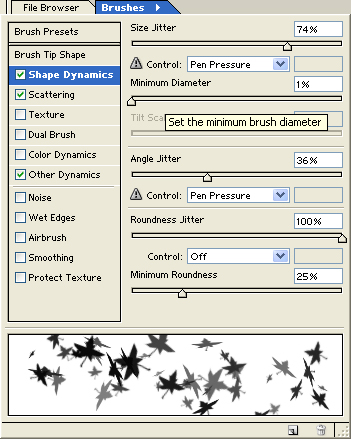 Scattering...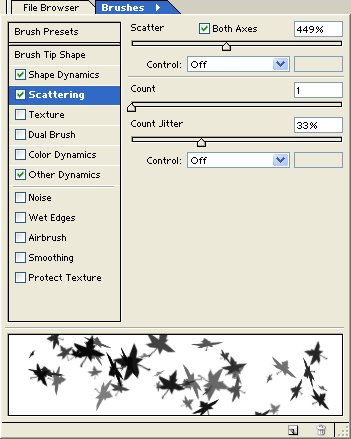 Other Dynamics...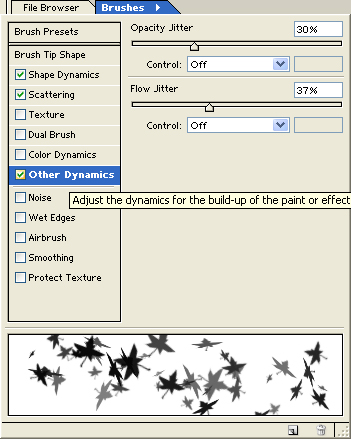 11) Nothing's stopping you from playing around with the other settings, so go ahead! Play! It's kind of fun. That's how I've made this brush. Once you're done you can make all sorts of nifty things. Here's what I've made: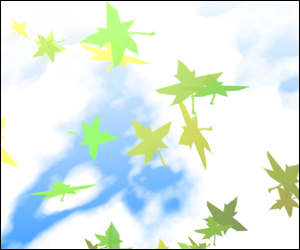 (click image to enlarge)

Thanks for reading.