Adobe Photoshop Tutorials
[ Advanced Tutorials ] [ Basic Tutorials ]

Deprecated: Function eregi() is deprecated in /home/pimp08/public_html/tutorials/submit/show_news.php on line 16

Deprecated: Function eregi() is deprecated in /home/pimp08/public_html/tutorials/submit/show_news.php on line 36

Deprecated: Function eregi() is deprecated in /home/pimp08/public_html/tutorials/submit/inc/shows.inc.php on line 23

Deprecated: Function eregi() is deprecated in /home/pimp08/public_html/tutorials/submit/inc/shows.inc.php on line 23

Resize An Image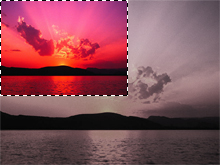 step 1
Welcome to Pimp My Comís Photoshop Basics tutorials. In this tutorial you will be learning how to resize an image such as a photo to a smaller size while retaining the original image quality.
step 2

Firstly, open up your image. Iím going to use a Sample Picture that came with this computer when I bought it. View it here.
step 3

Now, go to Image > Image Size... and a box will pop up. It should look like this. Now here is where you can edit a lot of settings to your liking. Iíll explain the basics. Width is the horizontal length of your image. Height is the vertical length of the image. The checkbox in the bottom that says ďConstrain ProportionsĒ says that the image will always be relative, so it wonít let you resize the image so that it distorts. For example if that is checked (it is checked by default) and you type in a new Width for you image, it will automatically calculate a Height to compensate for the image so it doesnít distort. However, if your image is simple like a 1 pixel black line then you can uncheck this and enlarge the width of the image and it probably wonít distort). Also, you can resize the image depending on measurements. For example, the default is in Inches, so if you want your image to be an 8 inch by 10 inch image, say youíre resizing a photo, you can use this.
step 4
Notes: If you want your image to be, say, an 8 inch by 10 inch document, but resizing it with Constraint Proportions wonít get you the size you want, resize to the greatest value (for example if your document is 16 inches by 24 inches, and you want it to fit in a 8 inch by 10 inch document, resize the image to 8 inches by 12 inches (instead of 6.667 inches by 10 inches... notice one of the values, 6.667 inches, is less than what you want it to be if you want it to be 8x10) and crop it to 8x10). If you have any other questions please feel free to contact us using the contact page Thanks.