Adobe Photoshop Tutorials
[ Advanced Tutorials ] [ Basic Tutorials ]

Deprecated: Function eregi() is deprecated in /home/pimp08/public_html/tutorials/submit/show_news.php on line 16

Deprecated: Function eregi() is deprecated in /home/pimp08/public_html/tutorials/submit/show_news.php on line 36

Deprecated: Function eregi() is deprecated in /home/pimp08/public_html/tutorials/submit/inc/shows.inc.php on line 23

Deprecated: Function eregi() is deprecated in /home/pimp08/public_html/tutorials/submit/inc/shows.inc.php on line 23

Removing Backgrounds Using The Magic Wand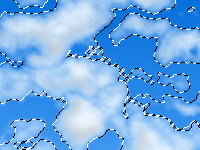 step 1
Welcome to Pimp My Com's Photoshop Basics tutorials. In this tutorial you will learn how to remove a background from, say, a photo, or some other image.
step 2

First off, open up the image you want to remove the background from. I'm going to use an image that I created using the Adobe Photoshop tutorial Clouded Sky (to learn how to make that effect, please refer to the regular Photoshop tutorial Clouded Sky). The image I'm going to use looks like this. (Note: You might want to try this tutorial with an image with a simple background.)
step 3

On the Tools Palette, choose the Magic Wand Tool. Now I'll explain some settings it has. The tolerance of this tool means how much of a color it will select when you click that color. Anti-aliased says whether or not the selection will have jagged edges or smooth edges. If "Contiguous" is checked, when you click on a color, it will only select that one area of that color. For example in an image with more than one area of the same color, if you click on one area of one color, if "Contiguous" is checked, it will only select that one area, while if it is unchecked, it will select all areas of that color. Use All Layers (which is unchecked by default) takes into account all colors on all the layers in your image. Now, to start removing your background, click on the color that you want to remove. If you want to make another selection, either deselect that one (CTRL + D) and uncheck "Contiguous," or make sure you have "Add To Selection" clicked and start clicking another color (if you click a wrong area by accident, don't be alarmed, you can go back by holding CTRL and ALT and pressing the 'Z' key). When you finally have a selection that you want, either fill it with a color, delete it, or hide it in a layer mask. That completes this tutorial. Please check back later for more basic and regular Photoshop Tutorials.