Adobe Photoshop Tutorials
[ Advanced Tutorials ] [ Basic Tutorials ]

Deprecated: Function eregi() is deprecated in /home/pimp08/public_html/tutorials/submit/show_news.php on line 16

Deprecated: Function eregi() is deprecated in /home/pimp08/public_html/tutorials/submit/show_news.php on line 36

Deprecated: Function eregi() is deprecated in /home/pimp08/public_html/tutorials/submit/inc/shows.inc.php on line 23

Deprecated: Function eregi() is deprecated in /home/pimp08/public_html/tutorials/submit/inc/shows.inc.php on line 23

Half Filled Text

step 1
Well first off i want to welcome you to PimpMyCom.Com and also to this tutorial that will give you the ability to make half filled text with a outer line.

step 2
Well to get started open a canvas any size...then make a black background...and a white text color... and then go ahead and type some text on to the canvas....


step 3
Once you have typed what text he are going to head over to your layer where you should have two layers one for your background and one for your text.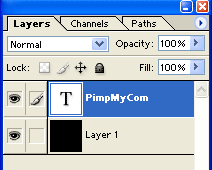 Click on the layer that is your text, ether double click or right click and choose blending options.

step 4
Once your in your blending options look down the left list for Gradient Overlay click the check box and go into the options. You will see Scale ..bring the scale down too 10% or the lowest possible which should cut your text in half. Now go over to the stroke tab and click the check box and go into the stroke options ...make the size 1% and the opacity 100% and you should have a outline on your text now...this will leave you with a outline of text with a border.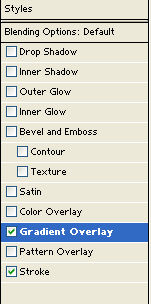 You can change the color of the border or the text or background which ever you like.