Adobe Photoshop Tutorials
[ Advanced Tutorials ] [ Basic Tutorials ]

Deprecated: Function eregi() is deprecated in /home/pimp08/public_html/tutorials/submit/show_news.php on line 16

Deprecated: Function eregi() is deprecated in /home/pimp08/public_html/tutorials/submit/show_news.php on line 36

Deprecated: Function eregi() is deprecated in /home/pimp08/public_html/tutorials/submit/inc/shows.inc.php on line 23

Deprecated: Function eregi() is deprecated in /home/pimp08/public_html/tutorials/submit/inc/shows.inc.php on line 23

Professional Layout Content Table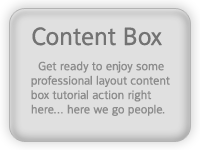 step 1
First off, set your Foreground Color to E0E0E0 and your Background Color to BFBFBF. Rename your layer to "bg". Press CTRL + BACKSPACE to fill the layer "bg" with the background color (the dark gray).
step 3

Now get ready to make give it some styles. Click the Layer Styles button on the Layers Palette, and choose Drop Shadow. Click the links below to view an image with the corresponding settings you could base your image on.
- Drop Shadow
- Inner Shadow
- Inner Glow
- Stoke
...After you apply those settings it should look like this.
Thanks For Reading..