Adobe Photoshop Tutorials
[ Advanced Tutorials ] [ Basic Tutorials ]

Deprecated: Function eregi() is deprecated in /home/pimp08/public_html/tutorials/submit/show_news.php on line 16

Deprecated: Function eregi() is deprecated in /home/pimp08/public_html/tutorials/submit/show_news.php on line 36

Deprecated: Function eregi() is deprecated in /home/pimp08/public_html/tutorials/submit/inc/shows.inc.php on line 23

Deprecated: Function eregi() is deprecated in /home/pimp08/public_html/tutorials/submit/inc/shows.inc.php on line 23

Simple Professional Layout *Update*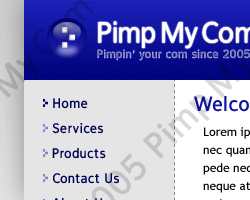 step 1

Hello and welcome to the Simple Professional Layout tutorial. First, start off by creating a new document around the size of 800 x 600. Rename your background layer to "bg". Set your Foreground Color to FFFFFF, and set your Background Color to E5E5E5. Press CTRL + BACKSPACE to fill the background layer "bg" with white. Create a new layer and call it "layout". Now Grab the Rectangular Marquee Tool and make a selection of about 600 width by 800 height in the center of the image. While on layer "layout", fill it with white by pressing ALT + BACKSPACE. Product.
step 3

Cool. Okay, now make a selection at the top of your layout that looks like this. Fill it with some color or something, or put a banner here. Product.
step 4

Now it's time to make some sort of nav. It's up to you from here, though. Maybe you want two vertical nav areas; maybe you want a nav going horizontal across the top? Either way, go add it. Product #1 or Product #2.
step 5

Good! We're winding down now.... Just leave some space for a content area, or maybe make a footer at the bottom if you really want. It's really all up to you. I made a demo in Photoshop of what the layout might look like coded out, take a look here: Final Product!

Thanks For Reading..
conclusion
Well, I hope you learned something nifty and new and awesome. Good luck with your layout, soldier. Thanks.