Adobe Photoshop Tutorials
[ Advanced Tutorials ] [ Basic Tutorials ]

Deprecated: Function eregi() is deprecated in /home/pimp08/public_html/tutorials/submit/show_news.php on line 16

Deprecated: Function eregi() is deprecated in /home/pimp08/public_html/tutorials/submit/show_news.php on line 36

Deprecated: Function eregi() is deprecated in /home/pimp08/public_html/tutorials/submit/inc/shows.inc.php on line 23

Deprecated: Function eregi() is deprecated in /home/pimp08/public_html/tutorials/submit/inc/shows.inc.php on line 23

Jellybean Text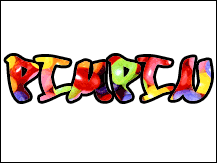 step 1

To start off, open a new document with a transparent background. Fill Layer 1 with white. Create a new layer and type some text; make it white (yes, that's white text on a white background; bear with me). Now give it a 3 pixel black stroke (or something). Product.
step 2

Now, find a picture of some jelly beans (or whatever you will) that look like this. Paste it in to your image behind the text layer. Product.
step 3

Now hold the CTRL key and click on your text layer's layer in the Layers Palette. Product. Now choose your jellybean's layer in your Layers Palette and click on the Add Layer Mask button.
step 4

Now, in your Layers Palette, drag your Jellybean layer up so it's above your text layer, like this. There you go! Final Product.
conclusion
I hope I've helped. Thanks for reading.