Adobe Photoshop Tutorials
[ Advanced Tutorials ] [ Basic Tutorials ]

Deprecated: Function eregi() is deprecated in /home/pimp08/public_html/tutorials/submit/show_news.php on line 16

Deprecated: Function eregi() is deprecated in /home/pimp08/public_html/tutorials/submit/show_news.php on line 36

Deprecated: Function eregi() is deprecated in /home/pimp08/public_html/tutorials/submit/inc/shows.inc.php on line 23

Deprecated: Function eregi() is deprecated in /home/pimp08/public_html/tutorials/submit/inc/shows.inc.php on line 23

Spherize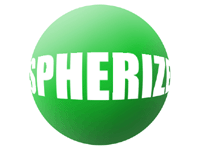 step 1
First off, create a new square document (same width and height value), any size around 400 width by 400 height in pixels with a transparent or white background; either one works.
step 2

Create a new layer, and grab the Elliptical Marquee Tool. Hold the SHIFT key and make a circle selection across your document. Fill it in with a color. Product.
step 3

Now grab the Text Tool and write out some text, it doesn't matter what color or what size. You don't even have to put text in here, necessarily. Put here what you want to spherize. Product.
step 4

Now hold the CTRL key and click on the sphere layer in your Layers Palette to load the sphere layer's selection. Now click on the layer of your text or the object you're going to spherize and press the Add Layer Mask button at the bottom of the Layers Palette window.
step 6

You may add some final touches to your image by giving your circle layer some layer styles. Other than that, you're pretty much done. Feel free to tweak it a little bit if you need to; it may be a bit blurry (maybe try again with a bigger image and after you're done, make the whole image a little smaller?). Final Product. Thanks For Reading..