Adobe Photoshop Tutorials
[ Advanced Tutorials ] [ Basic Tutorials ]

Deprecated: Function eregi() is deprecated in /home/pimp08/public_html/tutorials/submit/show_news.php on line 16

Deprecated: Function eregi() is deprecated in /home/pimp08/public_html/tutorials/submit/show_news.php on line 36

Deprecated: Function eregi() is deprecated in /home/pimp08/public_html/tutorials/submit/inc/shows.inc.php on line 23

Deprecated: Function eregi() is deprecated in /home/pimp08/public_html/tutorials/submit/inc/shows.inc.php on line 23

Making an Old-Fashioned Record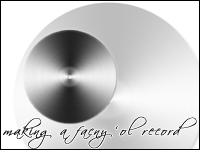 step 3

Now duplicate that layer (Highlight the layer in the Layers Palette and press CTRL + J). Now press SHIFT + CTRL + N to create a new layer. Now, look at your layers Palette. Click on your new layer and drag it below the duplicate circle layer, but above the original circle layer. Now select your duplicate circle layer. Like this. Now go to Layer > Merge Down (or press CTRL + E). Change this layer, Layer 3, to a Blending Mode of Multiply and an Opacity of 65% like this. Product.
step 6

If you want you can now grab you Elliptical Marquee Tool again with the all same settings as before except this time set the Width and Height to 15 px, center your selection in the center of your image and press the DELETE key. Now choose your original circle layer in the Layers Palette and hit DELETE on that too. Product.
step 7

Well, you're pretty much done. You can add some addition effects to it like a drop shadow maybe, or something, although if you logically think about it that's unrealistic- objects don't randomly hover... if I recall correctly.... Final Product. Thanks For Reading..