Adobe Photoshop Tutorials
[ Advanced Tutorials ] [ Basic Tutorials ]

Deprecated: Function eregi() is deprecated in /home/pimp08/public_html/tutorials/submit/show_news.php on line 16

Deprecated: Function eregi() is deprecated in /home/pimp08/public_html/tutorials/submit/show_news.php on line 36

Deprecated: Function eregi() is deprecated in /home/pimp08/public_html/tutorials/submit/inc/shows.inc.php on line 23

Deprecated: Function eregi() is deprecated in /home/pimp08/public_html/tutorials/submit/inc/shows.inc.php on line 23

Glossy Reflected Text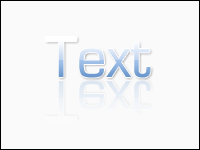 step 1

Open up a new document. Fill the background layer with a color close to white (but not white), maybe #FAFAFA. Create a new layer and type some text. Product.
step 2

Now it's time for some layer styles. Click on the Layer Styles button at the bottom of the Layers Palette and click on Drop Shadow. Use these settings for Drop Shadow. Now click on Gradient Overlay. Use these settings and make a gradient that looks like this. Now click on OK and then click on Stroke. Use these settings. Now click OK to apply these settings. Product.
step 4
Well, that's about it. You can play around with fonts and maybe add some more effects if you'd like. Good luck. Final Product. Thanks For Reading.